Texas was an Road Trip.  The kids were troopers, and we covered a ton of miles….. Here goes:
Day 1:
Fort Worth :
Stockyards!- One of a kind rodeo Texas experience- Definitely recommend. Ate at Riscky's for barbecue.  Not bad, but wasn't the best.
Water Garden Fountains- Quick trip, fun site to see, water all around you.
Dallas:
Dallas Museum Of Art- Fantastic museum, even for the kids. Could have spent another day there
Downtown Dallas- Did a ton of walking downtown in the Arts District
Addison- Galleria Mall – Usually not a thing to do when traveling, but everything looks bigger in Texas, 4th of July decorations everywhere and the American Girl Store
On the way South:
Dinosaur Valley State Park- Walk in Dinosaur Footprints.  Great experience. Several areas had recently been washed away by floods so needs to get cleaned up a bit. Could camp there in the future and have lots of daily hiking and bike riding. The kids loved walking in the footprints.
Mammoth State Park Waco- Got to see giant fossil digsites. The girls loved seeing the real fossils, and earned another ranger badge.
Baylor University- Beautiful place to drive through.  We didn't stop to get any pictures though.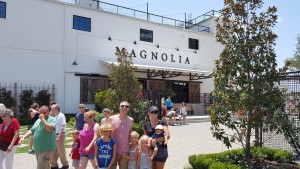 Magnolia- We had heard wonderful things about the Gaine's famiy creation in downtown Waco.  Quite the vision and the following.  I've been there a couple times since on every visit.
San Antonio Riverwalk- Beautiful Walk, could have spent days jogging and walking there.
San Antonio Seaworld- This was a bit of a disappointment.  It was super hot and super crowded.  We wanted to take the kids because we had heard the whale shows were going away, but would have enjoyed downtown San Antonio more instead.
The Alamo- All of us really enjoyed the Alamo.  My 8 year old could comprehend, and my wife and I learned a ton.  Recommend older kids for this stop.
Heading Back North:
Austin- Capitol Building- Beautiful building that reminded them of other capital buildings around the country
Downtown 6th St- The girls enjoyed the one man band, but overall, they didn't like Austin like the loved San Antonio and Fort Worth.
Lake Travis- Watched the fireworks from the park at Lake Travis. Did not disappoint.
Watering hole at Krause Springs- We tried to go to another watering hole first and didn't realize you needed reservations. Ended up at Krause Springs and couldn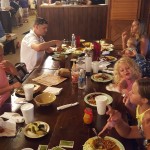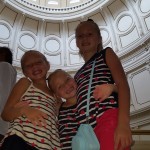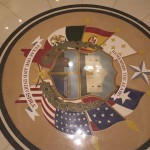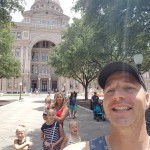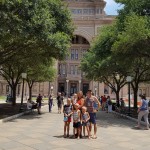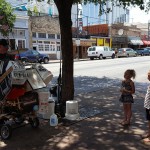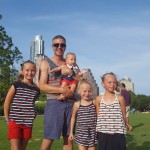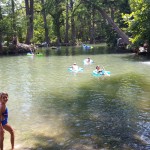 't be happier