This was a first for me… Please forgive me for my poor pictures.. When it comes to pictures of food, my hands are way to messy to pull out the good camera and lighting. Kaleena has been on bedrest for a few weeks now and she has been getting pretty tired of my plain home cooked meals, or the fast food options I've been grabbing. This week I decided to step up my game and cook great meals every day for her.. Lobster tails were actually pretty easy.. Adding some steak from the barbecue, made for a great surf & turf, at home..
1.) Prepare The Lobster Tails
I picked up a 4 pack of Lobster Tails for around $20 from Costco. You want to make sure they are completely thawed before starting. If they are frozen, put them in the fridge and cook them when thawed tomorrow. Take a pair of scissors and cut down the back of the lobster tails. Then by hand, peel the lobster shell back and pull the meat out to "piggy back" on top of the shell. Add Salt, pepper, and butter.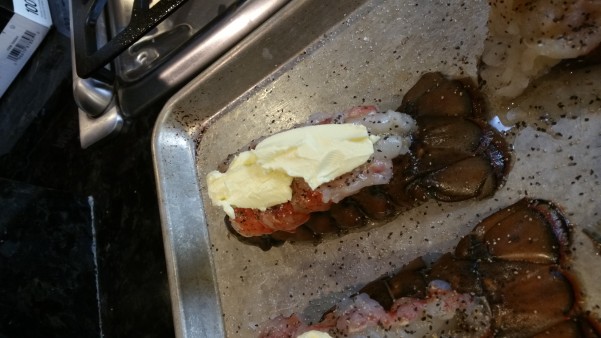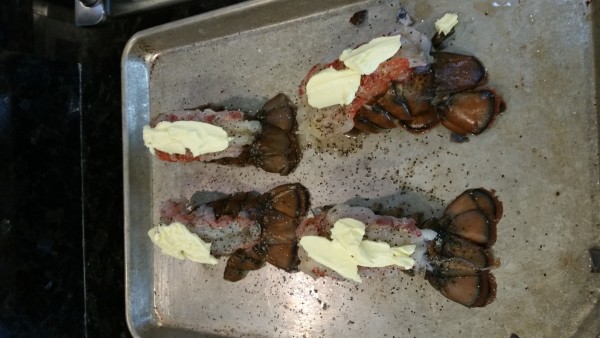 2.) Put them in the Oven
These were around 6 oz each so I put them in the oven at 375 degrees for 12 minutes.. That was just enough time to go barbecue my steaks.  After 12 minutes, I brought it my steaks to let stand, and turned the oven to broil at 500 degrees for about 3 minutes.  This was a great finishing touch to give everything a great color and make sure it was fully cooked.
3.) Presentation- A piece of cake
After pulling them out of the oven, the finishing presentation was a piece of cake.  We added lemon wedges to squeeze over while eating.  If we hadn't cooked with butter we probably would have added melted butter at the table too.  For a first time job cooking lobster tails it was a pretty easy addition to a regular steak dinner.  The surf and turf feels a lot more special, and only adds about 5 minutes of prep time to the barbecue night.